Disability Insurance Awareness Month 2020
May is Disability Insurance Awareness Month (DIAM) and every year The Council for Disability Awareness joins forces with others in the insurance industry to raise awareness about the importance of income protection.
The Importance of Disability Coverage in Uncertain Times
Millions of working Americans are facing financial uncertainty this year. The absence of emergency savings, rising medical costs, and an overall trend of fewer employers offering benefits to workers has created a uniquely challenging time. But now as much as ever, it's important to understand that without some kind of income protection, more Americans could face severe financial difficulty if they need to miss work due to illness, injury or pregnancy.
DIAM 2020 | Downloadable Advisor Materials
We offer the following materials for download as part of our commitment to providing the most current resources for employers and consumers about the importance of alternate sources of income for times when one is out of work due to illness, injury or pregnancy.
Fact Sheet & Social Media Content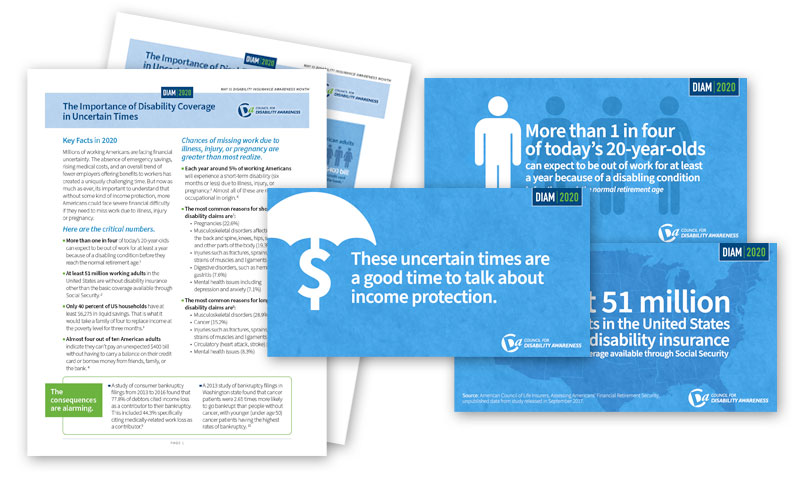 Download materials:
DIAM 2020 Fact Sheet (2-page PDF File)
DIAM 2020 Twitter Content Package (zipped folder, including 13 graphics sized for Twitter with suggested post text to accompany each)
DIAM 2020 Facebook + LinkedIn Content Package (zipped folder, including 13 graphics sized for Facebook and LinkedIn with suggested post text to accompany each)
DIAM 2020 Instagram Content Package (zipped folder, including 13 graphics sized for Instagram with suggested post text to accompany each)
---
This article originally appeared at disabilitycanhappen.org/diam-advisors/